What is going on with the speed the last couple of weeks.. It is not my computer because I can use my phone data and speeds are fine.. I have limited data on my phone and I shouldn't have to use my phone I pay for this service. Please check into this. I need my internet.
What speeds are you seeing?
And what plan are you on?
it is meant to be frustrating. two reasons 1) to get you to upgrade. 2) buy more priority data $$$.
so i live in the mountains. before the sale of excede my machine ran ok after priority was used up so i stay. now post sale speeds no longer keep up at all. it's the mainframe allocating first, i know, yet now it puposely keeps me slow after priority. thats a change screeming corporate involvement to force me and others to upgrade or buy more priority. that is greed. and any new plan/change plan option is not activated for me. new viasat customers can get unlimited data for the same money i pay for 25GIGS. i want to change and they say it is available online yet i am not givin any options. i am an SMECC IN MASS COMM. i use tons of data. well over the 25, more like 300+. i beta microsoft nt-os. that cycles every week @ 20 alone.now this is our world. it will become the norm and when it does corp's will start over..repeate..and so on.
My boyfriend keeps complaining that the speed is so slow. Even though our new month has just started. I don't know what is going on but it sure sucks that we can't get good speeds.
Still looking for what people think "slow" is.
This just popped up for me.....

(Fake image removed by Mods)
(Edited)
"According to the plans they are offering up to 120Mbps that's stupid"

(sorry) Viasat Brad. I've been a bad boy.  You see, I stayed home to watch the launch today and now it is delayed a couple more hours and there is 10" of snow outside and, well, um,.... sorry.
(Edited)
I'm really going to pay for this,  aren't  I.  It's been nice knowing everyone....
(Edited)
I guess I should do more than glance casually on a small mobile screen while "paying attention" in boring meetings.
Mine has been ridiculous too, and I haven't hit my 150GB yet! I am being throttled every night. Why do I pay over $100 a month for crappy service?
Payload is on it's way! ( check out the cars nav. screen)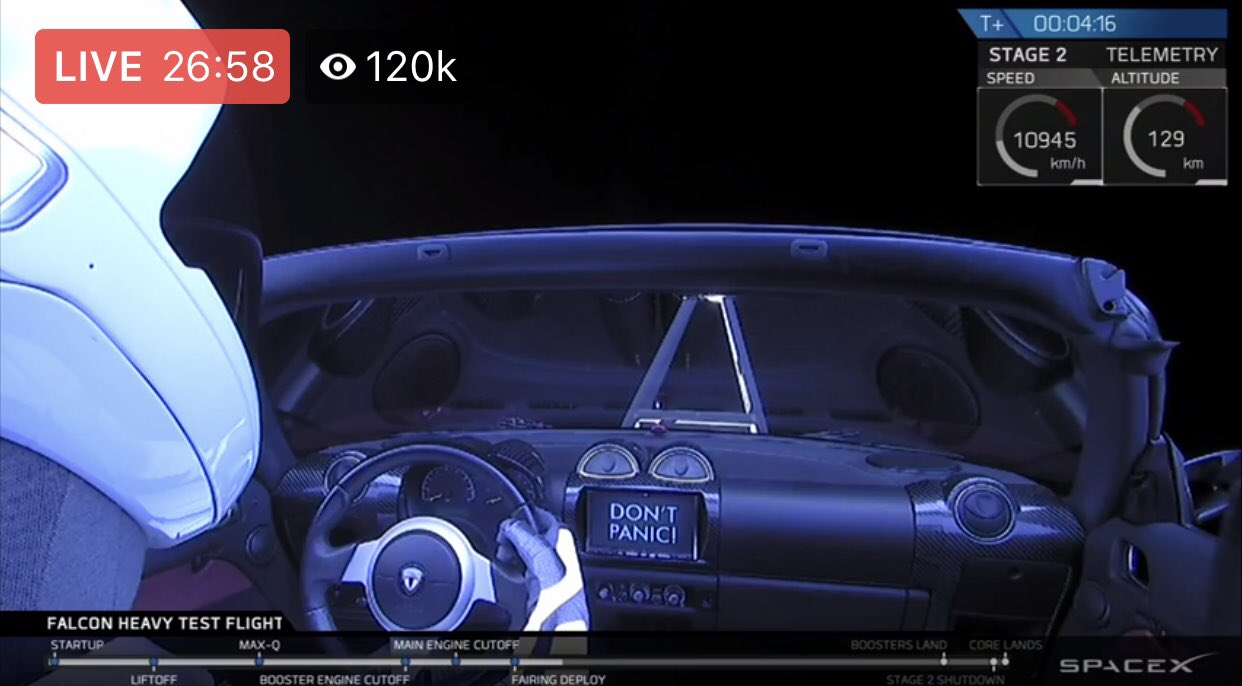 (Edited)
Hi Elaine

There could be a variety of things at play on speed. First it could be the plan you're on and how much data has been used (after a certain amount speeds can slow), secondly the time of day can be a big factor as peak hours (typically 5pm-12am) will see speeds drop across the board as more people are online some beams are going to have a bigger "traffic jam". We are working on managing everything but the long term relief will come once ViaSat-2 enters the game we'll see a more long term fix. The best thing I could recommend is call us at as it occurs at 855-463-9333. 

---------------------------------------------------
Secondly,.....not to take away from the original topic or to end a few replies having a little fun in this thread but before everyone gets too worked up into a frenzy, I'd once again state our only official response regarding Viasat-2 plans that went through a lot of filters (ultra smooth!! but also means all we can tell you officially):

We really love the enthusiasm, and we're equally excited to bring ViaSat-2 services to the market.We expect the ViaSat-2 satellite to enter commercial service in February 2018, where it will enable the delivery of advanced residential, enterprise, government and in-flight internet services.

 All official announcements on ViaSat-2 service plans and availability will be shared directly on this forum by a Viasat employee. Once made public, we encourage you to check out our service offerings, which vary by location, by going to: account.viasat.com.
(Edited)