So out of curiosity, I decided to have a look at my available plans, to see if there were any Viasat-2 plans available to me. And here is what I found (there's the gold plan, but I didn't include that in the image here.) For $99, I'm getting 150GB/month, at up  12Mbps. For $95, I can get the same speed, but "Unlimited" - but it's really throttled at 60 GB - based on what I've heard about the Liberty plans, this likely means it could get slow enough during peaks to be potentially unusable.
This totally doesn't seem like a good deal to me. If it were "Unlimited" but throttled at 150 GB, with the same price-point (or even a tad higher), that would be tempting. This is not even close. And the Gold plan throttles at 100GB, but costs 50% more than the Freedom plan! *Maybe* if the Gold plan throttled at 200, I might think about it. But at 100? Or maybe if speeds were 25Mbps, and throttled down to a guaranteed speed somewhere above 8-10 Mbps (which is the effective speed I get quite often) I might also think about it.
I won't be switching.
There still aren't any Viasat-2 plans available to you. Those are Viasat-1 plans. Expect more changes during the web site housecleaning and renovation.   
Oh, huh, interesting - they weren't there a few weeks ago. Thanks!
Those are the revamped Viasat-1 plans :).
Do you have the old modem or do you have the new wif built in modem? It's been suggested that these plans are for the old modem.
I have the freedom 150 and it is 25 up so that has to be the plans for the old modem.I have the new modem.I have seen no new plans yet but I read we should see some in the next 2 weeks.Read something today about it.I pay 110 for mine and it works good.
(Edited)
my page finally updated to the unlimited bronze, silver, gold, but those arent the vs2 plans yet correct? your silver is 95 but my gold is 95 i wonder why that is
(Edited)
Location, location, location
Horrible deals. Viasat is actually raising the prices when you factor in the video resolution downgrades on the unlimited packages. Until they can offer true unlimited services without the video degrading, people need to look at other options. I would rather have have a 350GB to 500GB data cap, than have the false unlimited data with video degradation. Oh yea, for the new ViaSat people Optimized video mean downgraded video!
Exactly how I felt seeing these plans show up on my account page. Not only is it not tempting to me on Freedom 150 but these plans don't even look good next to the Unlimited plans that were up until recently on offer. These plans give me little hope about what's to come at least on VS1.

On the bright side, I'm getting close to AT&T's Fixed Wireless solution reaching me as they been investing in my area and laying Fiber down my road so I at least have their solutions to look forward too.
2 days ago I checked for avail plans and there was only 1 other than my liberty, today there are 3 more.....bronze, silver and gold. What the hell? they are trying to sell more when I cannot even read my  e-mail...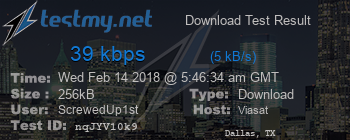 5:45am thats not even in prime time where its usually congested
Previously, I was offered Silver Unlimited and some Liberty plans.
Here is what I see today (note that the saved image is named VS1_Standard_Offerings):
It's nice that I now have the Gold option (because anything less than 720p resolution is unacceptable), but overall those new (VS1) plans don't sound too appealing.  And now I don't even have the option for Liberty plans!
so went to look at my plans, these popped up. now i'm currently on 30Mbps with wifi modem and i had to start a chat to move to the 50Mbps unlimited plan which she has a new dish and modem scheduled to be installed.