3 Posts
0 Reply Likes
Like I made a big error going with Viasat. This thinly veiled google browser is half a step above crap.
The rate of decay of said dead snail is faster than my connection after useing up my "priority" data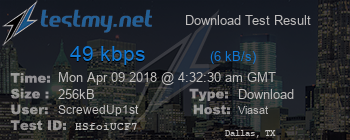 @ 
Martin Seebach
Your speed description leaves little for the imagination, wow.  Send an email to
viasatlistens@viasat.com
describing what your are experiencing.   This is free advice, but here's a bit more...  Include a link to this thread!  Your description is a first here.  Also include your contact information and account number.  
 @ 
Mark here
You too need to send an email to
viasatlistens@viasat.com
. Your speed is shameful and I think Viasat will push some buttons somewhere to fix that when they become aware of it. 
Yeah I'm hoping they will be going bankrupt in the future.
Why do you want Viasat to go bankrupt?
Related Categories
1257 Conversations
1115 Followers

757 Conversations
508 Followers

159 Conversations
44 Followers